Tamae Haruka Hitimahana
Tamae came to receive her training with me in 2010, for a whole week. She was already teaching in Osaka at that time, while working as a marketing manager in a big office (large company).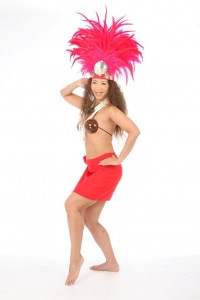 Tamae has greatly developed her Tahitian dance teaching activities since, and now has over 100 students. She teaches different levels around Osaka.
Her school, Iaorana Tahiti Dance School, performs regularly at Ori Tahiti shows in the Osaka region. She also gives workshops in other regions sometimes even in Korea.
Haruka Tamae is a Te Tuamarama Representative in Japan.
Haruka Hitimahana's profile
Dance experience
Haruka began classic ballet at the age of 3, at the same time she also started learning Hula and Tahitian Dance.
After her graduation, she danced professionally on cruise ships for 4 years.
She is still learning dance with Joelle Berg, the true heiress of Ori Tahiti, and Haruka continues to contribute to the development of Tahitian Dance throughout Japan and Asia, under the motto "Learn while having fun".
She is also a member of the professional dance group Ti Fai Fai, and regularly performs at evenings and weekend shows.
She has performed on stage over 200 times and she continues to enchant audiences with Tahitian Dance.
Contact: hitimahana_haruka�yahoo.co.jp