Libor Prokop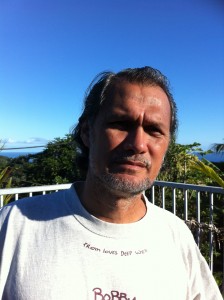 Libor is a musician who was educated in classical music from childhood. Before beginning his career in Polynesian percussion, he was a pianist and guitarist. During his adulthood, he started learning different drums, the didgeridoo and the nose flute.
Libor is a master of the toere, the tari parau, the faakete, the pahu, the ihara, and many other traditional percussion instruments, but his specialty resides in the practice of the vivo and pahu. Since the early 1980s, Libor has been a dancer for the Temaeva Dance Group and a percussionist of the Heikura Nui, the O Tahiti, and the Hei Tahiti Dance Group starting in 2012.
He was also a member of the Fenua group of Guy Laurens.
Also, Libor is especially active in the Haururu Cultural Association with whom he researches all aspects of the Marae, or the space and time notions surrounding traditional societies and Polynesian migrations.