Percussion Workshops with Libor Prokop
Percussion workshops are only organized when a demand exists. These classes can be in either an individual or group setting and are "tailor made" according to the students' needs.
Instruments that are utilized in this workshop are principally the Toere, the Tari Parau, the Faakete, the Pahu Tupai, the Ihara, and the Vivo, or Nose Flute.
There are other instruments that can be taught upon the student's request.
The workshops are designed depending upon the level of the students. In general, there are three levels in which the course is taught: :
Beginner- Beginner lessons focus on the discovery of the principle instruments and the role that they play in Tahitian dancing. Drumming techniques and basic rhythms are taught,
Intermediate- Intermediate lessons are intended for those who have had limited percussion practice. A deepening of the drumming technique and basic rhythms are taught, along with a discovery of the production of sonorities from natural materials such as wood, nacre, sand, rocks, bamboos, etc.,
Advanced- The advanced lessons are intended for students who regularly utilize percussion instruments and wish to improve their technique and begin composition of new rhythms.
Learning to use these percussion instruments also demands an understanding of their social function. In both Polynesian culture and traditional society, one also considers that the sounds produced by musical instruments have and effect on the human body.
The PU, which is an instrumental conch, announces the arrival of an important event. The sound produced by the PU determines the base for the event that is coming. The pahu, which is a skin drum, is thought to wake up the body in order to trigger action. The vivo, which is a nose flute, announces the end of the Marae ceremonies. The sound of the vivo allows humans to return from a holy dimension to the dimension of the profane, which can also be thought of as a return from a trance/meditation state to a normal state of being.
The Teacher: Libor Prokop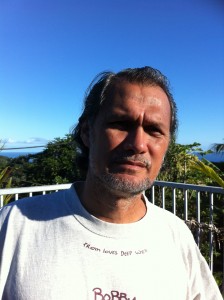 Libor is a musician who was educated in classical music from childhood. Before beginning his career in Polynesian percussion, he was a pianist and guitarist. During his adulthood, he started learning different drums, the didgeridoo and the nose flute.
Libor is a master of the toere, the tari parau, the faakete, the pahu, the ihara, and many other traditional percussion instruments, but his specialty resides in the practice of the vivo and pahu. Since the early 1980s, Libor has been a dancer for the Temaeva Dance Group and a percussionist of the Heikura Nui, the O Tahiti, and the Hei Tahiti Dance Group starting in 2012.
He was also a member of the Fenua group of Guy Laurens.
Also, Libor is especially active in the Haururu Cultural Association with whom he researches all aspects of the Marae, or the space and time notions surrounding traditional societies and Polynesian migrations.