Tahitian Dance Master Workshop at the Quai Branly Museum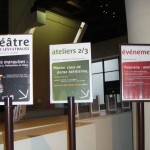 This master workshop introduced a discovery of Tahitian dance including practice lessons and a mini-conference covering:
basic techniques,
dance meaning in Polynesian society,
the evolution of dance and the influence of colonization on the dance process,
the process of recording choreography in correlation to spoken language.
Three Two-Hour Sessions:
First Session: Friday June 10th at 18:30
. The two basic movements: tahiri and tatue
. Mini-conference: evolution of dance movement, influence of colonization on the dance process, and dance in Polynesian society
. Questions/Answers
Second Session: Saturday June 11th at 10:30
. Session completely dedicated to dance practice: the contents were determined according to the capabilities of the students
. A few steps and some sequence on music with percussions
Third Session: Sunday June 12th at 10:30
. Dance writing
. In Tahitian dance, movements are linked to language; not only to meaning but also to sonority and energy contained within the words.
. The transition from oral to written dance has corrupted the link between dance movements and words
. A short text covering the four elements of water, fire, earth, and air that taught students how to create dance choreography
.
Je serai accompagnée de trois percussionnistes (tari parau, toere, faakete).
Jean Pascal Liault Toere
Pierre / Tuki Utia Faakete
Rogo Arakino Pahu
The price is consistent for each master workshop with the exception of the Karate introduction, which is given free access upon presentation of a museum entry pass: 70 Euros for 3 sessions Reservations au 01 56 61 71 72